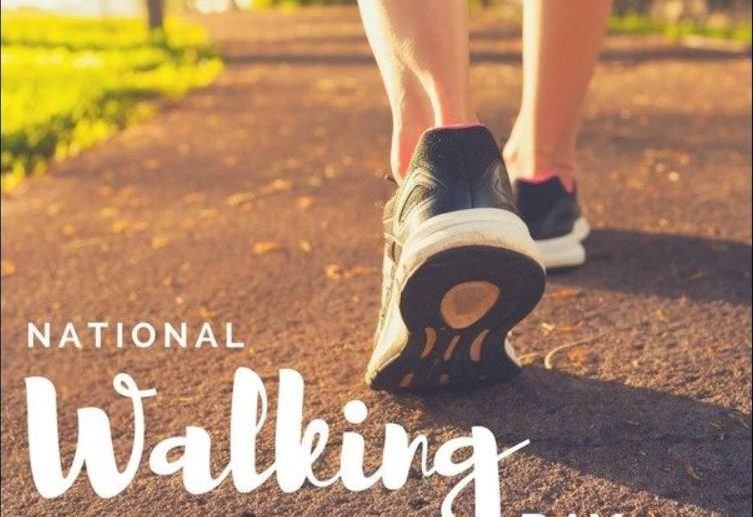 BUT today is also National Walking Day!
And what a perfect time of the year for this national day to take place. With everything going on in the world, it's great to take every opportunity to get outside and go for a walk. Here are some ideas on how to enjoy #NationalWalkingDay
Take thirty minutes out of your day to go for a walk. Find a trail near you or walk around your neighborhood. You can also visit a local park or walk on your treadmill. Take your kids or your canine pals with you, too. You can even take this time to practice #socialdistancing and have a 6- foot- apart walking or hiking adventure with friends. Just because we are under a #quarantine doesn't mean we can't enjoy the fresh air!
Looking for some great ideas for your next walk?
Here are some great ways to get your walking in as posted here:
Walk and talk. Need to return some calls?  Catch up on your calls while taking a walk.
Always opt for the stairs. Skip the elevator and the escalators and walk up the stairs instead.
Walk the dog. Rather than let Fido run in the backyard, take him for a walk. You'll both enjoy the fresh air and exercise.
Skip the coffee shop or happy hour at the bar. Instead of sitting in a restaurant, head to the park for a catch-up session with your friends.
Walk at lunchtime. Get away from your desk and clear your head with a lunchtime walk. You can walk with friends or take some time for yourself.
Park further away. Whether you're shopping or in the parking lot at work, choose a spot far away from the entrance to give you more time to walk
Get off a stop or two early. Commute via train or bus? Get off a stop or two earlier than you need to and walk the rest of the way.
Go see your colleague. Rather than sending an email or calling your co-worker with a question get up and walk to his or her desk. Bonus if she works on another floor and you take the stairs!
Create active family time. Get everyone together for a walk after dinner, rather than sitting down in front of the TV.
Do your errands on foot. Do you need to hit some local stores or pick up dinner? Leave the car at home and walk instead.
Treat yourself to a pedometer. Invest in your health and keep yourself accountable by tracking how many steps you take per day.
To read more, please visit https://nationaltoday.com/national-walking-day/