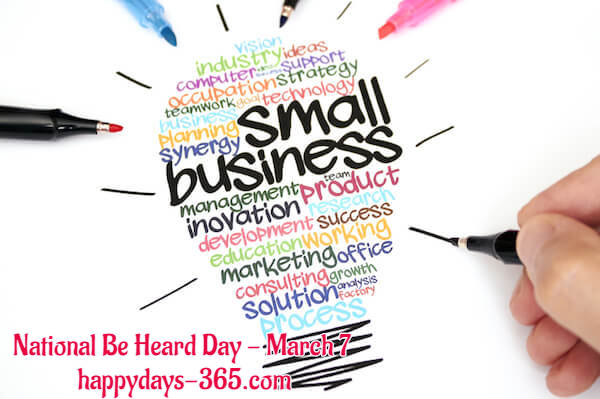 National Be Heard Day
Each year on the 7th day of March, National Be Heard Day is observed across the country by small businesses.
The National Be Heard Day has been created by the Shannon Cherry, a Marketing and Business Strategist. She has created Be Heard Day in the year 2004 and has been celebrated since then. The Day aims to make a difference to many small business owners and aspiring owners by making their voices heard. Shannon Cherry dedicated this Day by noticing over 145 million small businesses and local businesses in the United States are not even noticed by the people nearby and thereby putting an end to this problem. The Day recognizes all the small businesses entrepreneurs by encouraging them to stand up and breaks through the big-business dominated markets. It provides them with a chance to lay claim to their share of the market. The goal of Be Heard Day for all the small business and marketing professionals to offer their services and knowledge for free. There are many ways for this to be done, be it through creative marketing, smart publicity tactics, strong visual appearance or any of the other inventive ways of making their presence known.
How to Celebrate National Be Heard Day
Celebrating the National Be Heard Day is quite simple. You can take this Day as the best time to make yourself heard among other big deals. Look at your marketing sector and be sure to give the creative ideas to get noticed. You can get expert advice on the ways to improvise your business as it gives you lots of benefits. Those who are not a part of the small business can lend your support for such organizations. It is the best time for the consumers to get connected to others. Be a part of the celebrations and share your  Be Heard Day celebration photos on the social media using the hashtag #BeHeardDay.
History
Business Mentor Shannon Cherry founded National Be Heard Day in 2004 to help small businesses stand up and be heard through all the big business marketing.